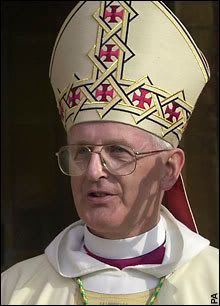 Victory!
The new Bishop of Menevia is to be Tom Burns, currently Bishop of the Forces: pictured. See
here
. H-t to
Fr Blake
. Perhaps someone in Rome cares after all!
Now for the big one: the new Archbishop of Westminster. Who'll say a rosary for that? I'll say one too.
Briefing (27/09/08):
the usual story is that bishops and their friends are above the Church's law: obedience is strictly optional. The law exists, as many of them seem to think, not to protect the weak by controlling the arbitrary actions of the powerful, but to bludgeon anyone criticising them or, horror of horrors, wanting the Traditional Mass.
So Monsignor Reardon can happily look back to his direct assistance (as a witness) at the 'marriage' of a fellow priest (un-laicised) and not be concerned that it will impede his possible elevation to the diocese of Menevia. He can say to his local paper, "If someone can show me the church law I am supposed to have broken, I would be interested, but I'm not aware of it." No no, laws are for lesser folk. Even if he broke a few, who cares?
Well, we shall see if this really is the case. The facts have been put before the relevant authorities, and the blogger canonist
Edward Peters supplies the necessary answer
to Reardon's rhetorical question. Will the Catholics of Menevia be expected to respect and obey this man as their bishop?
H-T to
Damian Thompson
.